Women, Take Your Business to the Next Level
July 16-18 2023 | Event tickets are sold out!
The Women in Business Workshop is a revolutionary 3-day business growth workshop where women from every walk of life come together to feel inspired, supported and welcomed in a community of business babes.

This is not a fluffy, feel-good, cosmic back rub type of event. The Women in Business Workshop is real women, real businesses, and real success. We are not about the "Woo Woo," strategies and fluff, we are here to WIN! #WinOverWooWoo

The Women in Business Workshop is where we tackle business and life elements together. No matter where you are at, what level or type of business you're in, this is for you!!

Expect to be energized and motivated with a new outlook and discipline to carry out your greatest ambitions. You will leave the workshop with life long skills, a more knowledgeable approach to life and business, and the support of all the amazing women you meet!
Join us and take the first step to becoming the woman you know you were always meant to be!
WIB Sponsor:
Brandmetix
Brandmetix is an extension of your brand, providing customized creative solutions for the promotion of your company and culture.

We serve as a partner in providing quality custom merchandise and bringing ideas to life through branded products and apparel.

We are founded on a passion for small business mixed with a love for creativity and USA pride. Brandmedtix works with businesses and organizations that share our same vision.

Our goal is to always go above and beyond for the brands we partner with and to serve as a reliable partner in providing quality merch, creative solutions and supporting the re-growth of USA manufacturing.
Website: www.brandmetix.com
Instagram: @brandmetix
WIB Sponsor:
Noble Heritage Industries, Inc.
Imagine a world where stories aren't just words on a page or pictures in a book. At Noble Heritage Industries, we strive to achieve a high level of craftsmanship with our custom products that embody the power of storytelling that leaves a lasting impression. We aim to create more than just eco-friendly, sustainable products made in the USA that will stand the test of time; we aim to help people craft stories that can be felt, experienced, and cherished for years to come. We provide a legacy by design– that is our very own Noble Heritage. What's yours?

Website: http://nobleheritageind.com/
Instagram: @nobleheritageindustries
WIB SPONSOR:
The Paper & Plan Co
The Paper & Plan Co was founded on the principle of traditional luxury meets modern design. It is our mission to create beautifully crafted quality planners, paper goods, office supplies & writing instruments you will enjoy & can take pride in.
Instagram: @thepaperandplanco
WIB SPONSOR:
Common Thread
Shop Common Thread has one mission: to help women feel great, find joy and save time.  We pride ourselves on curating a selection of clothing and accessories that are easy to shop and even easier to wear!  We have a team of stylists available to help women across the country shop our site and we offer a unique VIP program ensuring you will always enjoy a great deal, what kind of gal doesn't love a deal on the latest and greatest?!  Our flagship store is based in Costa Mesa, CA and inspires our coastal, effortless and versatile aesthetic.
Instagram: @shopcommonthreadoc
WIB SPONSOR:
Fierce Forward
Our mission is to be a light to our community and create inspirational pieces to connect you to you. We want you to feel and be the fierce that you are. We hand make crystal jewelry & home decor that's infused with good energy!
WIB SPONSOR:
The Works Consulting
Our integrative approach combines human resources functions, leadership development training, and performance coaching to create systems that help leaders develop happier, high performing workforces and achieve their organizational goals.
We're dedicated to helping you achieve your corporate and personal goals. You can rely on The Works Consulting to be your advocate for all of your human resources, leadership development, and performance coaching needs so you can focus on growing your core business.
Website: theworksconsulting.com
Instagram: @annelaguzza
WIB SPONSOR:
TR Miller
For over 47 years T.R. Miller Co., Inc. has enhanced clients' reputation through superior promotional products programs and innovative recognition concepts. Our commitment to promotional items selection, company stores program features and fulfillment has made us one of the most sought after custom promotional products providers in the world. We hope to have the opportunity to help promote your company brand identity.
WIB SPONSOR:
Valkyrie Ventures
At Valkyrie Ventures Group, we value your trust and provide partnership to lift your business to new heights.
The team at Valkyrie Ventures Group partners with small businesses to ensure they have the financial and operational strength to achieve their goals. Our firm specializes in analyzing the existing financial and operational status of each business and works in partnership to optimize and achieve business targets.
WIB SPONSOR:
Freedom Reads
If you are looking to grow, learn from world-class authors and game-changers who stretch the narrative of excellence, then this group is for you.
This is a book club for the exceptional, the thinkers, disruptors, challengers, and doers of the world.
We bring you a community of like-minded individuals to elevate together.
Welcome to ….
The power of the written word….FREEDOM READS
Instagram: @Freedomreads_
WIB Sonsor:
The Institute of Natural Health
The Institute of Natural Health is a functional medicine clinic dedicated to helping people achieve optimal health, wellness, and vitality through our unwavering commitment to precision and personalization.

We use a novel approach that integrates the most effective diagnostic tools and technologies from conventional medicine with emerging tests and tools to identify the fundamental imbalances underlying all illnesses. By combining the most advanced diagnostic measures and techniques, we are able to offer a higher standard of care which enables our clients to achieve the healthiest version of themselves possible. With our commitment to incorporating the latest diagnostic technologies, we can better understand and address the root cause of illness and deliver personalized cutting-edge treatments tailored to each patient's unique needs.
Website: www.inhstl.com
Instagram: @inh
WIB SPONSOR:
Katie's Pizza and Pasta Osteria
Katie Collier is the chef and owner of Katie's Pizza and Pasta Osteria in St. Louis, MO. This family-owned and operated restaurant is a successful, award-winning artisan Italian restaurant and bar. Katie's focuses on a modern, approachable interpretation of regional Italian cuisine, featuring fresh, local, and seasonal ingredients. Katie's inspiration comes from the time she spent living in Italy with her artist mother, Belinda Lee. Katie's Pizza promises to create moments of enjoyment between friends and family through passion-filled food and warm hospitality.
https://katiespizzaandpasta.com
WIB Sponsor:
Wironen Aube Wealth Management / Jennifer Aube
I come alongside busy women to take the weight off your shoulders by keeping your financial situation optimized. I am not your father's financial advisor. I "get" what you are going through because I am in the trenches with you. You have a personal set of life events, goals, and obstacles. Your financial plan should also be personal. I am passionate about understanding how to cater to your unique investment needs and work hard to provide the education and tools necessary to lead you to success.
Securities and advisory services offered through LPL Financial, a registered investment advisor, Member FINRA/ SIPC.
Website: www.wawm.lpl.com
Listed sponsors are not affiliated with or endorsed by LPL Financial WironenAube Wealth Management.

POWERHOUSE SPEAKERS

RELATIONSHIP BUILDING

TACTICAL EDUCATION

5-STAR EXPERIENCE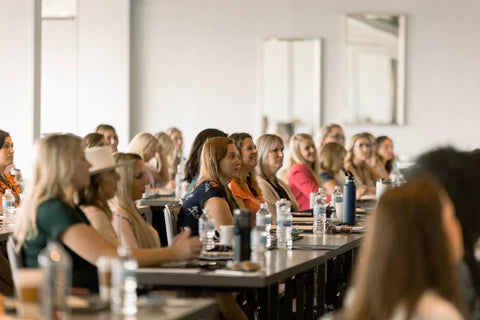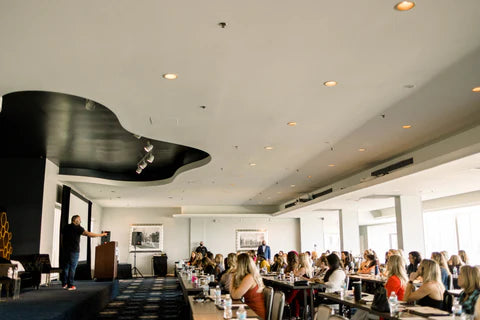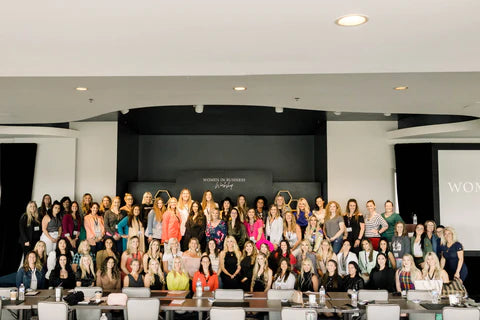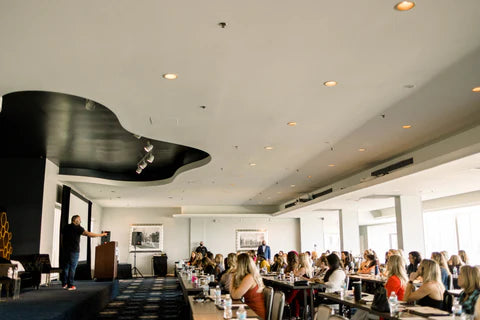 Women In Business Workshop July 2023
When: July 16-18, 2023
Where: St. Louis *Full schedule and hotel room block information will be shared to attendees privately*
Tickets: $2000
What's included with the Women in Business Workshop ticket?
- Lunch, Snacks, Dinner & Cocktails 
- Transportation to dinners
- Swag (the fun stuff!)
- Fresh Professional Headshots
- Learn from high powered & well respected  speakers who have done the work and built their own successful businesses using real world strategy & tactics.
- Lots of new and amazing ladies to connect and build with!! 
Tickets are sold out!
Here's What Attendees Are Saying
My name is Kayla Yetter, and I am the sole owner of Fully Fit With Kay, LLC. This was my first year attending the Women In Business Workshop and the impact it has had on both myself and my business already is undeniable. The information alone brought forth by the speakers initiated deep thought, provided insight into a variety of issues and helped to make mindset shifts that I didn't even know that I needed. It's value simply immeasurable. Beyond that, I met so many incredibly strong, intelligent and gifted women that have now turned into friendships and even business relationships, ones that I know will change my life in more ways than one! I am so grateful to have had the opportunity to be surrounded by the caliber of women that I was and to learn all of the things that I am now implementing in my own business! I CANT WAIT FOR NEXT YEAR! 
- Kayla Yetter
It's tough to put into words how powerful Women in Business was for me.  As a female entrepreneur, you feel kind of alone a lot of times in this world and Women in Business not only reminds you that you aren't, but inspires you to be even greater.  The 3 days at WIB were not only flawlessly run with timing, amazing speakers, a variety of professions displayed, and networking galore, but it really reignites your fire for what you want to do in this world.  
I was feeling a bit 'stale' with ideas and I walked away from those three days with my mind filled to the brim of all the new things I wanted to do with my company to help us grow and continue to change lives. 
I will most definitely be back and have stayed in touch with a number of the ladies!  We need more boss women in this world and WIB is making that happen!  
- Becca Chilczenkowski - Co-Owner of FitMom Lifestyle and The Food Code Podcast
Attending the Women In Business Workshop is absolutely life changing! It is so amazing to be surrounded by like minded women in all kinds of different industries who commit and persevere to fulfill their greatest potential not just in business, but in all areas of life. The information provided by the speakers is  based on first hand experience and not just a story/ theory someone has read about. I ended up leaving  the workshop with not only new business relationships but personal relationships too (that's priceless).
- Evelyn B - Dirt Direct Motorsports / Dirt Direct Offroad Performance
Best decision I've made as a business owner was attending WIB! I was hesitant: I'm only 18 months into owning my business, I'm older and a mom of 4.  Wasn't sure if I'd "fit in".  But, I can say I have never been around a group of women that I felt such a connection with! All different ages, backgrounds, professions, demographics: yet all having the exact same drive to grow, get better, never settle and learn!  The energy was electric!   So much knowledge exchanged!  I have so many new ideas and goals… and now a group of like minded women to go to for input.  Thanks Emily and your crew!!!  Can't wait for the next one! 
- Veronica Lane - Well Body PT2
After attending 3 WIB events, I can honestly say that I take away very different, yet very valuable information every single year. I have been to SO MANY training, seminars, etc and none have been as valuable as this. None have provided me with true tactical advice that I can leave and implement immediately. It isn't full of fluff and inspiration, it is full of real world "I have lived it and excelled through it" advice. I have met some of the most amazing women, and formed the most amazing friendships. It has become my favorite event of the year. 
- Shannon Puetz
I walked into my first Women In Business workshop in 2020 and was confident I was going to acquire knowledge to help my business grow.  What I didn't know was that my entire community of women was going to change and I would find my best friends walking into that event.The tools, resources, and speakers that Emily brings in every year are always top notch.  What you cannot put a price on are the relationships you'll acquire upon walking into the room.  All different women from all different walks of life, who are in all different levels of their business all come together to do one thing...help each other.  If you are in the first few years of your business, like I am, or if you have 15 years of experience - this event is for everyone.I've attended hundreds of conferences in my life and walked out with a nice notebook, maybe a shirt, and a few pages of notes.  And not once did I reconnect with the people I met or followed up on questions I had. What Emily has built with the Women In Business workshop is truly unique.  It's real women with practical knowledge who are willing to educate you and challenge you to help grow your business.I cannot recommend this workshop enough and every year I go, it gets even better!
- Marin Lee
The Women In Business workshop was a breath of fresh air! I was surrounded by like minded women who are truly making a difference by striving to become the best version of themselves without lots of hype and "woo-woo". We received practical and simple advice that I was able to implement even long after we went home. I feel like these amazing ladies will forever be a part of my life!
- Rhonda Budge
Attending Emily's Women In Business workshop was the necessary next step for me. I was nervous to attend, I had butterflies and as the time drew near, my anxiety was climbing a bit. I didn't know many people attending but the butterflies were not because of that, it was because I knew, I could never leave this conference the same person I walked in as. This was 100% true.
Surrounding myself with like-minded, compassionate, kind, and badass women is essential to my personal and professional growth. I learned more about myself and navigating my businesses than I expected. The speakers were so perfectly lined up to compliment each others topics and offered tactical, take-home actionable items to execute on immediately to succeed. Every single woman in attendance genuinely cared about the success of one another. 
This is a must attend event for any woman wanting more for themselves. 
- Mariah
"Words aren't enough to fully capture my experience at the Women in Business Workshop. I truly enjoyed every second! Each speaker provided value and information beyond my expectations. Every woman who attended was inspiring, encouraging, and very kind. It speaks volumes of Emily and the community she has created. It was incredibly refreshing to be surrounded by women who are doing their best every day to make a difference in their lives and the lives of others! This event launched my business far beyond where it would have been had I not attended. Everything Emily and her team touches turns to gold and this workshop was no exception!"
- Jenna Johnson
Women In Business Workshop
Four years ago I remember becoming exhausted of seeing the "woo woo" glitter and girly type of business events. I don't resonate with that style.
Glitter doesn't pay the bills. Hard work does.
I knew that there had to be other babes out there who felt the same. Which created the idea to launch an event to remember and a culture that would never be forgotten.
One that you could start implementing the knowledge you gain and carry on the friendships you'll make with other like-minded badass amazing women.
This is a drama free, no bullshit, no fluff zone. With a limited number of tickets it's an amazing and intimate event and it will be the most productive, intense, and best girls weekend ever! I hope to see you there!! - Emily
If you are interested in sponsoring the Women in Business Workshop, please fill out our form.
Submit Sponsorship Request